Whole wheat vegan wrap
Box Lunch Classic
Your classic San Francisco box lunch includes a deli style sandwich (ham, turkey, cheese, tuna, egg salad, roast beef etc.), a side salad and a cookie or fruit.
$12
Speciaty Box
Grilled Tri-tip Steak sandwich, grilled herb chicken breast, roasted vegetable sandwich with feta, panko swai fish sandwich and fresh mozzarella with tomato and basil are all great specialty box lunch choices. Also includes a side salad a sweet and fruit.
For your gluten free guests everything above works quite well as a chef salad. Grilled herb chicken breast over organic greens with a balsamic dressing. Yum! Roasted vegetables and feta rock as a salad too.
$17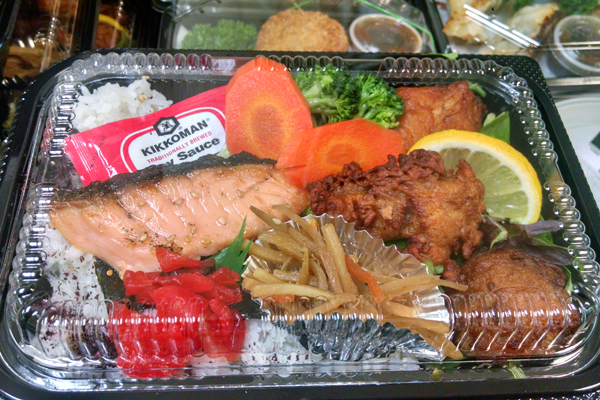 Bento Box
The best kept bento box catering secret in San Francisco has to be Shhhhhhh.
True to their mission of
"having our clients eat good healthy food at least once a day"
They provide authentic Japanese food, and can deliver quality well beyond what is served in most restaurants, this company prepares bento boxes, sushi and desserts for many clients in the San Francisco area including Japanese tour companies, The Consulate General of Japan, local companies and individuals. We make everything from scratch without cutting corners. That's right. Everything is homemade!
Just Email us with the subject BENTO YES and we will have someone get in touch right away.